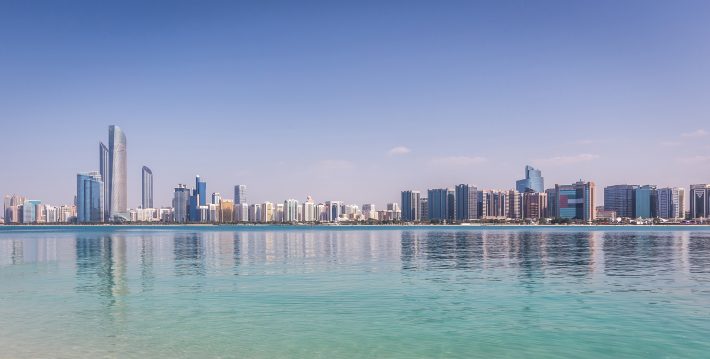 The ever exciting F1 season is coming to a close with Abu Dhabi's 8th Grand Prix just 9 days away. The hotly anticipated winner of the 21 race season will be determined on Sunday 27thNovember, but who do you think will take the crown?
Mercedes have yet again dominated, with both Hamilton and Rosberg battling it out for the championship. Hamilton is an agonising 12 points behind Rosberg and must finish in the top three to be in with a chance of retaining his title. In order for Hamilton to claim his third consecutive championship Rosberg must finish outside the top eight – something we're hoping will happen but looking at Rosberg's form this season, it doesn't look likely.
Abu Dhabi hosted its first Grand Prix in 2009 and it has quickly become the Middle East's biggest international sporting event. Taking place at the awe inspiring Yas Marina Circuit, it is the only twilight race on the F1 calendar and one of our favourite's here at Skytime HQ. Sponsored by Etihad Airways, the track is set on a stunning waterfront that rivals the likes of Singapore and Monaco.
Off the track the entertainment throughout the Grand Prix weekend showcases Abu Dhabi at its most glamorous. In previous years there have been live concerts featuring performances by major international artists such as Jay-Z, Muse, Paul McCartney and Beyoncé.
This year the entertainment is not something to be missed. On Friday 25th November the legendary duo The Chemical Brothers will take to the du Arena stage, inviting fans to witness a variety of their well known tracks over the past two decades. Ending the weekend with a bang will be the multi award winning Rihanna who will be greeting the Yasalam After-Race crowd in Abu Dhabi.
Abu Dhabi isn't just well known for it's popular Grand Prix event. The wonderful city is the capital of the United Arab Emirates and is a great alternative to the ever popular Dubai. Lying on a T-shaped island jutting into the Persian Gulf from the central western coast, the cosmopolitan city boasts the stunning turquoise waters of the Indian ocean, along with culture and heritage rooted in Arabia's Islamic traditions and not to mention some of the world's finest dining.
From the well-known and quite frankly delicious Cantonese restaurant, Hakkasan to French restaurant Le Beaujolais (part of Mercure hotel), the variety of restaurants available in Abu Dhabi is second to none.
This well known city reaches temperatures of 31 degrees in November so if you're after a Vitamin D fix then a trip to Abu Dhabi with a pit stop (pun intended!) at the Grand Prix might just be one for you.